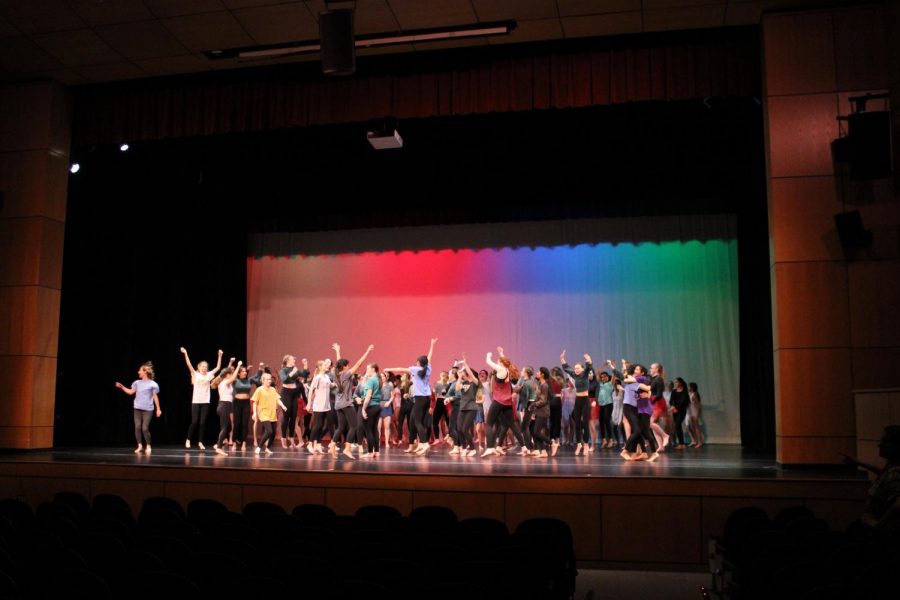 For the past four years, Panther Creek has had only one teacher running the dance department: Ms. Travis. The 2018-2019 school year will be her final year teaching at Panther Creek. PCNN asked Ms. Travis and a few of her students about her departure from Panther Creek and the final dance concert of the school year.
PCNN asked Ms. Travis about the reason for her departure. "My family and I are moving to Alabama for some job opportunities" she states. Being the only teacher in the dance department has its perks but it also has some downsides. "Day to day it can be a little lonely but i have a lot of great contacts with other wake county dance teachers… so it's not so bad" she states. Every teacher has those moments that are unforgettable and you will always remember and cherish. For Ms. Travis, those memories are the moments at the end of a show or a run when "the burden is lifted and the relief is strong and everybody is happy and lighthearted and also sad for it to be over. Those big moments."
One of those moments include last Thursday and Friday when the last spring dance concert took place. Something special about the dance concert is that it is student choreographed. Jordan Hoey states "I think it gives the students a great freedom to put together what they want to create." PCNN also went out to ask what made the students join the dance program. Aliza Adornetto joined the program since she "dances a lot outside of school" and she also "heard really good things about Ms. Travis and the dance program here." The dance classes at Panther Creek put on the show with the choreography they create during class. However, like any other class, they learn about dance and performing. Ally Cox says "we learn about choreography and performance space…making sure we are always performing and not marking". All of the Ms. Travis' students that we interviewed feel sad about Ms. Travis leaving however they all wish her the best. Madison Melvin feels "very privileged" to have her for all 4 years that Ms. Travis has been here. "I'll miss her a lot but I hope she has fun. I hope she enjoys being around [her] family more" Melvin says.
Ms. Travis was also asked if there is a final piece of advice she would like to leave for her students. She says she hopes that her students will "remember the investment in [themselves]… whether they dance or perform or work at a movie theater." Panther Creek wishes Ms. Travis a fond farewell and the best of luck to her new chapter in her life.
PCNN conducted a poll, asking current PCHS dance students if they were planning on continuing to dance after high school.