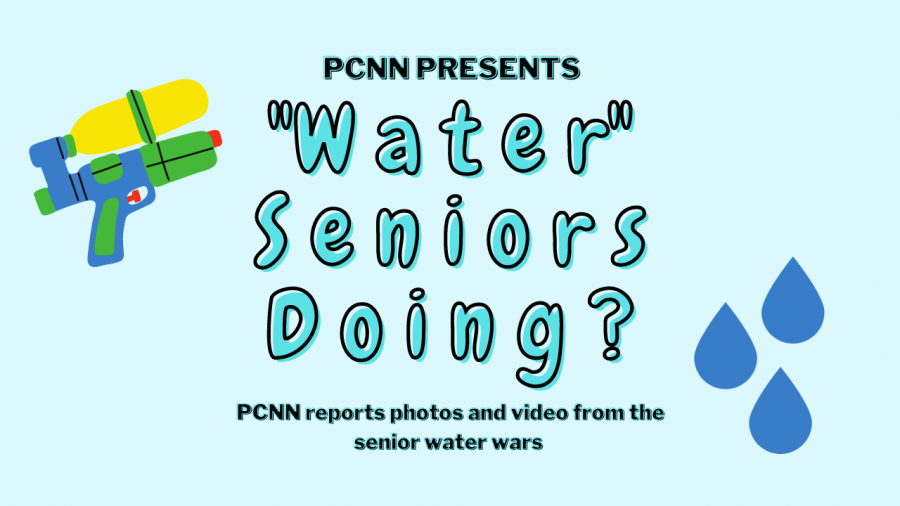 Have you seen high school kids running around with bright neon water guns. Spraying each other at work or even in your own neighborhood. Some may have even been caught in the middle of a water wars "spray"-down. Do not worry, there is nothing to fear; it is just the Class of 2021 having some fun.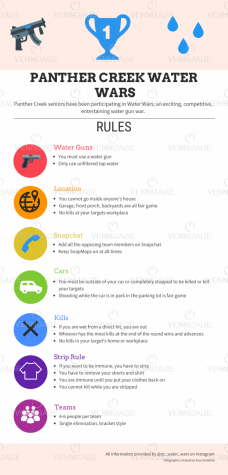 The 2021 Senior Class has been through a significant amount. From their junior year getting cut in half to most of their senior year being spent virtually. Most Seniors felt their seniors year meshing all into one gray memory, but this senior class does not stay down. Insert the Panther Creek Senior Association and Catamount Chaos as they put together an event that many have been waiting for: Water Wars.
Water Wars is a water gun fight set up in an NCAA Tournament Bracket. According to Senior Luke Stober, teams are made up of 4-6 members and the goal is to eliminate members of your opposing team. Members of teams get to pick their own team names, all of which have something to do with water. Unfortunately, Luke Stober's team name is not one we can publish, but Senior Katie Stevens' team name was $plash Money. The event is still going on and a winner has not been determined yet, but Water Wars was so much more than just winning.
Katie Stevens says the event "brings the senior class together through a fun senior event where everyone can participate." Katie Stevens also claims that this brought an immense amount of enjoyment to her senior year. One senior who wished not to be named described their Water Wars experience as the most fun four weeks they have had in a long time.
Like most things nowadays, Water Wars does not come without some crazy stories. Luke Stober talked about his craziest water wars experience. He says "My teammate was surrounded outside of his own home and it was the last day of the round. The teams were tied and the other team went to finish the job. My teammate sent out his little brother as a decoy, got the other team to jump him, and my teammate got a double kill coming up behind them. At 11 PM." Safe to say that Water Wars required immense dedication. Katie Stevens recalls "getting into a car chase that leading to a standoff with the other team."
Water Wars may just be seen as a bunch of kids running around spraying each other with water, but it was so much more than that. Water Wars allowed a senior class cooped up with Google Meets to release and let go through an organized activity. As many seniors are off to college, the military, or the workforce, this event can be looked back on as one last ride in their High School Experience.