Zooming In on Panther Creek's Fall Production: An Evening of Radio Plays Performed Online
October 30, 2020
You sit gathered around the radio with your family on a Friday evening, the dial tuned to a very particular angle. A cheerfully resonant voice crackles out into your living room, welcoming you back to your favorite program. It's the middle of the 20th century, and this is how you and your family entertain yourselves at home. This is the world that Panther Creek Theatre Arts creates with their 2020 fall production, An Evening of Radio Plays by Tony Palermo, performed and broadcast entirely over the internet.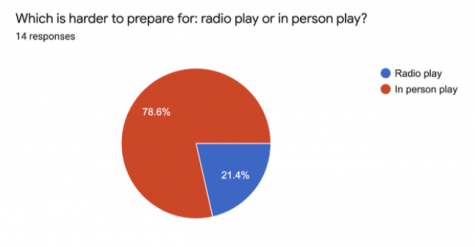 To adhere to the restrictions on gatherings due to COVID-19, the three radio plays premiere Friday, October 30th, at 7PM, with a second showing at the same time on Saturday, October 31st. The Halloween show date was no coincidence; the plays are meant to create a fun, spooky atmosphere. If you're reading this before 6:30PM on October 30th, tickets are available through this link. For a little taste of what the radio plays are like, check out this commercial, made by Deb Cox.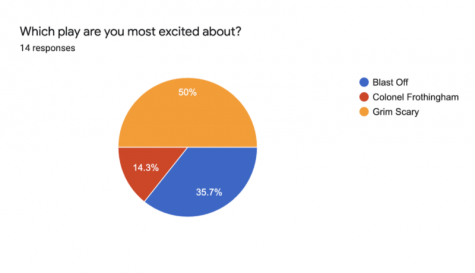 A few members of the cast also had some things to say on the subject of the plays they worked hard to bring to life. The first play, Blast-Off! – Greetings From the Planet Killer (or just Blast Off), is described by Andrew Rice, who plays the evil alien Zolshan, as "a science fiction adventure series. It's very much based in the tropes that you would normally see in those science fiction things, and there's a lot of humor and things that come from seeing those tropes, you know, like, just very silly, crazy aliens against these intergalactic warriors." Sydney Kain, who plays the fierce space leader Commander Tal, adds that it's "sort of like Star Trek and Star Wars," noting that "it's about aliens, and, you know, all that fun stuff!" Maia Tsalik, who has roles in both of the other radio plays, also notes that Blast Off has "kind of a Star Trek vibe."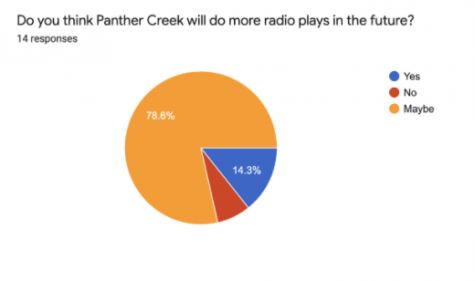 The second play audiences will see is called Colonel Frothingham, Intrepid Antiquitist – Egypped Again!, more commonly just called Colonel Frothingham. Manasi Subramanium, who plays the Seego-Mah in Blast Off, describes it as being "based on an Egyptian expedition where two rival expeditionists sort of meet each other at an old haunted tomb, and get into shenanigans." Andrew, who plays the show's namesake, Colonel Frothingham, says it's "a big spoof on basically anything related to Indiana Jones, Sherlock Holmes, or Monty Python and the Holy Grail, it's like that. It's spoofing on aspects of everything about that, and I'd say it's probably one of our funniest ones, in terms of just the way it's written."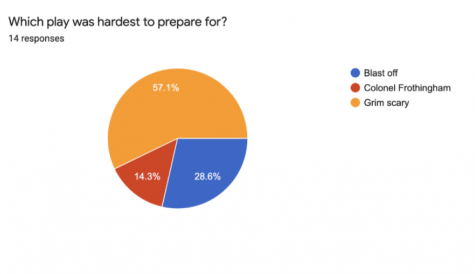 The third and final play that will be brought to audiences' homes is by far the spookiest. It's called Grim Scary Tales: The Pirate's Curse. "That one has to do with the Fountain of Youth," Maia, who plays Capitan Cruz, tells us. Sydney, who plays Catalina, says the play is "about pirates, and so it's kinda like Pirates of the Caribbean." Manasi and Andrew hinted at the relevance of conquistadors and Spanish accents, but to say much more would be spoiling the show.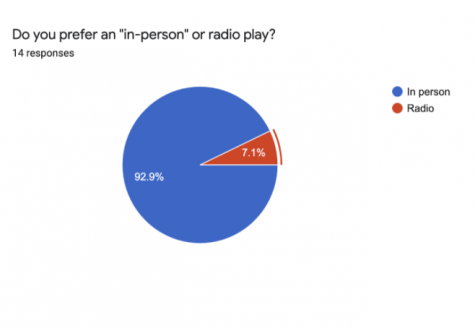 In terms of things to look out for, cast members had some suggestions. "We do have some pretty fun advertisements in between the shows that will be related to certain parts of the shows, and I think those will be really fun gags to make sure you're looking out for," Andrew points out. Maia suggests "taking in all of the effort that people put into this to try and make it as close to live theatre as possible. It took a lot of work to work out some of the technical kinks, some of them will definitely be there, but we ask the audience to focus on what the actors are putting out there rather than technology."
"I think just focusing a lot on the audio, we all tried to just portray a lot of emotion into the words that we're saying and make it really high energy and not just, you know, looking at our faces. We even had Mr. Cox's wife, he's our director, she actually just listened to our dress rehearsal and she said it felt like an actual radio performance just listening to it," adds Sydney, also asking the audience to "really pay attention to the sounds and not the visuals, cause that's how they would have done it in the old days."
Cast and Crew
Blast Off Cast: Anvi Patibanda, Sydney Kain, Bella Russell, Avery Sallean, William Houck, Kiya Shahidi, Andrew Rice, Manasi Subramanium, Tessa Richardson, Hal Cates
Colonel Frothingham Cast: Katie Liles, Andrew Rice, Panaya Gadekar, Audrey Williams, Sara Lafortune, Maia Tsalik, Zoe Garcia-Nogue, Anagha Purinik
Grim Scary Tales Cast: Alex Fluker, William Houck, Ethan Suehs, Carynne White, Maia Tsalik, Avery Sallean, Sydney Kain, Kiya Shahidi, Anagha Purinik, Sara Lafortune, Lily Houck
Stage Management Team: Lila Smit, Jessy Taylor, Kelly Chow, Kamakshi Valamuri
Sound Operation: Lily Blanchette
Director: Bing Cox
Playwright: Tony Palermo
Polls by Anya Kotecha.