Have you heard of "Academia?"
Panther Creek high school's very own Ethan Analco is a senior, who's first single is called "Dreaming." The song is a lyrical narrative of sorts, and simulates the idea of floating in one's own lovesick daydream while simultaneously departing from reality. Analco manipulates synth in a manner that is seamlessly combined with his blissful vocals to create such an effect. The track was inspired by a past relationship, and Academia captures both the pleasure and pain that accompany such an experience.
Academia released their first EP in July 2018, and by the end of the year, it had reached 5K streams in 55 countries on Spotify. Their music can be streamed across platforms including SoundCloud and Bandcamp, as well as iTunes and Apple Music. The band's first performance was played at Halifax Mall at an event for "Why Wake Walks" in April of 2018. Academia will be coming together live once again on March 23rd, for Panther Creek High School's Mr. Catamount show. Come out and show some support for Academia and PC student Ethan Analco!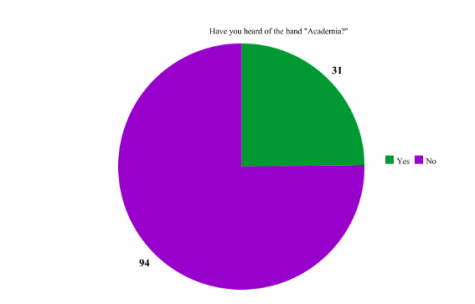 For this poll we asked 2 freshman classes and the chorus class if they have heard of the band "Academia." In both freshman classes, no one had heard of the band. This is probably because Ethan is a senior, but when we asked the chorus class, a little over half the class had heard of "Academia." This data supports the idea that the students within the music community have a higher chance of knowing about the band compared to other students around the school.