Thankful for a Break: What did this year's Thanksgiving break look like for PC students?
Thanksgiving is a holiday often celebrated in the United States where families gather to spend time with one another and express their thankfulness. Typical gatherings are large with the invitation of extended family from all over the country. Everyone greets each other with hugs and spends the day cooking a meal of traditional foods. Popular food items include turkey, stuffing, gravy, sweet potatoes, cornbread, mashed potatoes and pie for desert. 
This year however, there has been a drastic incident that has affected the annual holiday — COVID-19. As the pandemic has hit the world and infected millions, the regular traditions of traveling to a family member's house and meeting in large groups has had to be altered.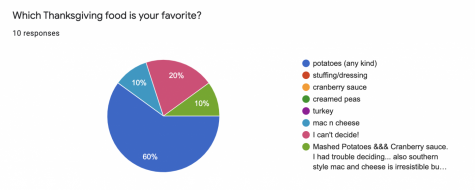 For starters, traveling during the pandemic has been limited and displayed as dangerous. This has caused many individuals to stay home rather than travel across states to join other family members for the holidays. Additionally, large groups of family members that can sometimes exceed 30 people, have had to be reduced into smaller groups. Although this was inconvenient and different from past thanksgivings, these precautions were needed to insure the safety of everyone and to reduce the spread of COVID. 
Through interviews with some PCHS students, the changes made to past traditions are able to be seen. 
Amulya Jose, a junior at PCHS said that in past years her family usually "met up and ate dinner together", however, due to COVID their Thanksgiving changed because they "usually meet up with a bunch of other families but this year it was only one other family". Amulya continued to say she missed "hanging with cousins" at Thanksgiving during pre-COVID times and cannot wait to "meet up with all of her family members" when Thanksgiving will occur normally again in the future. Amulya added that her favorite Thanksgiving food was apple pie. 

Ciya Joseph, a senior at PCHS said that in past Thanksgivings her family "makes turkey and the traditional thanksgiving feast. They watch the Thanksgiving parade in the morning and eat pumpkin pie." Due to COVID, Ciya's Thanksgiving changed because "they could not watch the thanksgiving parade or have parties with other people." Pre-COVID Ciya misses the parties the most and is looking forward to "hanging out with people" when times return to normal. Her favorite memory from past Thanksgivings was her "first friends-giving with really good food". Her favorite food is turkey and green bean casserole. Ciya adds that she thinks turkey is good when marinated and has spices with gravy.
Irine Raju, a freshman at PCHS said Thanksgiving traditions in the past involved "cooking the day before Thanksgiving because my mom works Thanksgiving day." Her regular traditions changed as she was unable to invite a guest that usually comes. Irine misses group gatherings the most and is looking forward to "inviting her friends over and going out to eat" when times return to normal. Her favorite Thanksgiving memory was a couple years back when "families from my neighborhood got together for Thanksgiving and there were 4-5 families all eating together." Her favorite food is mashed potatoes and personally Irine thinks turkey is "disgusting and dry".

COVID-19 has impacted the small daily activities people partake in and the large holidays that everyone looks forward to celebrating. The circumstances are unfortunate and everyone is excited for time and conditions to return to normal.