New Netflix Movies and Their Scary-tale Endings
Netflix rolled out new originals this Halloween season, such as Hubie Halloween, released on October 7th, and A Babysitter's Guide to Monster Hunting, released on October 15th.  Original shows and movies from Netflix tend to have a "love it" or "hate it" vibe.  Shows such as Stranger Things and The Umbrella Academy hit the mark for viewers while shows like Between fell short.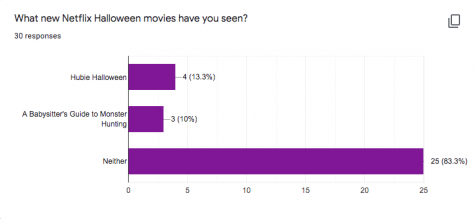 Well Panther Creek students, you're in luck!  Instead of spending hours watching the new Netflix Halloween movies when you could be studying, PCNN has wasted its own time for you!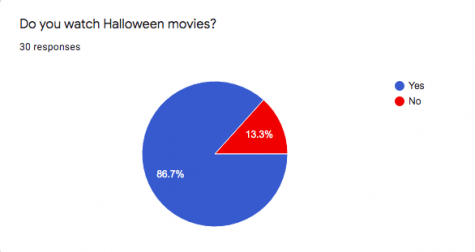 Hubie Hallowen 2/5
Hubie Halloween set high expectations when the cast full of older Disney Channel actors, and comedians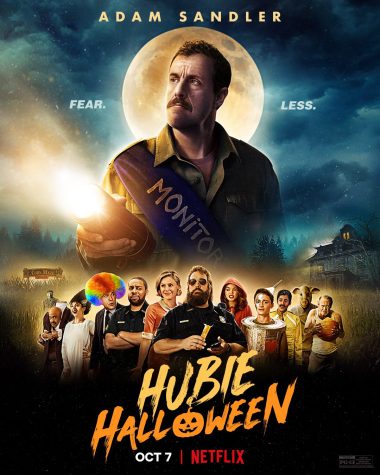 was revealed. 
The movie stars Adam Sandler (Grown Ups, Uncut Gems), Steve Buscemi (Grown Ups, Monsters Inc), Noah Schnapp (Stranger Things, The Peanuts Movie), Paris Berelc (Mighty Med, Alexa & Katie), Rob Schneider (Grown Ups, 50 First Dates), Julie Bowen (Modern Family, Lost), Kevin James (Grown Ups, Paul Blart: Mall Cop), Tim Meadows (Grown Ups, Saturday Night Live), Maya Rudolph (Grown Ups, Saturday Night Live),  Karan Brar (Jessie, Bunk'd), Ray Liotta (Goodfellas, Hannibal), Kenan Thompson (Kenan & Kel, Saturday Night Live), Mikey Day (MAD, Saturday Night Live), Ben Stiller (The Night at the Museum, When Harry Met Sally), Bradley Steven Perry (Mighty Med, Good Luck Charlie), Kelly Berglund (Lab Rats, How to Build a Better Boy), Peyton List (Jessie, Bunk'd) and Kevin Quinn (Adventures in Babysitting, Bunk'd)
(For the sake of comedy, while finding well-known movies these stars are from, I discovered Rob Schneider and Billy Crystal are in fact, not the same person.)
Now that I have ripped my hair out discovering the cast is a Grown Ups–Saturday Night Live-Disney crossover, it's time for the plot.  Warning: Spoilers ahead.
The movie opens up with a psychiatric patient escaping from his ward.  Quickly, the setting changes to the town of Salem in Massachusetts where we meet Hubie who is unpopular among his workers and other townspeople.  Hubie is seen as an oddball who doesn't fit in much and has a great love for Halloween.
With a great cast to back up a seemingly solid plot, you would think the movie would be rather good, but it only goes downhill from there.
Seeing as the movie is rated PG-13, I invited my 13-year-old brother to join me.  As the movie began and I jotted down my notes on how I felt, I couldn't help but add that he whispered to me, "I feel like they're trying a little too hard."  
What went wrong with the movie was how ridiculously unfunny it was. Between Adam Sandler's accent that was impossible to understand without subtitles, and a plotline that got lost in the "comedy."  I was already asking "How much longer do we have of this movie?" when we were less than thirty minutes into it.  I was distraught to hear we still had over an hour left.
The movie's most enjoyable part at that point had been the beauty that is Paris Berelc.
Had it not been for the fact that I needed to write a review for my newspaper grade, I would have stopped watching the movie at the thirty-minute mark.
I was confused as to who the age demographic is.  The movie is overall cheesy and could only be enjoyable to younger kids, yet there's a PG-13 rating with jokes that are not suitable for children.
The plot stems into several mini-plots, there's a teen love story between Tommy (Noah Schnapp) who is a freshman in high school, and upperclassman Megan (Paris Berelc).  Hubie's new neighbor, Walter Lambert (Steve Buscemi), seems to be a werewolf.  Then there's the escaped psychiatric patient (Rob Schneider) whose storyline mirrors Halloween. Meanwhile, Hubie is running around as an unofficial Halloween monitor. 
With all of that in mind, people are being kidnapped and viewers are made to believe that the escaped patient, Richie Hartman is the kidnapper. 
From there I got completely lost.  Turns out, Walter Lambert is Richie Hartman's roommate in their psych ward and they turn themselves into the authorities, therefore they can't be the kidnappers.  There's also a seemingly random love-plot between Hubie and Tommy's mom (Julie Bowen)? 
And here's the real kicker, the plot-twist, the end of the whodunit!  Mrs. Dubious (, Hubie's mom turns out to be the "killer" with her motivation being that she took the people that bullied Hubie because he is too kind to have such hate geared towards him.  There's a nice little moment where everyone recognizes their insecurities and recognizes Hubie to be a good kind guy.
Once again my brother turned to me and said "This is like one of those random dreams."  A fever dream.
With five minutes left my brother asked "Can we just end it?" and when we did, he walked out of the room saying "I feel like I wasted an hour of my life, that's time I will never get back."  Needless to say, he did not watch A Babysitter's Guide to Monster Hunting with me because he no longer trusts my movie-picking ability.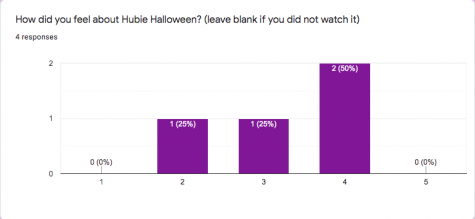 Overall, here's my review.
Everything was happening too fast, I didn't remember any character names and had to Google them as I write this review because the plots jumped so quickly.  With as fast as the plots went, the movie was sti
ll too slow for comfort.
It seemed as though Hubie Halloween was trying to be a parody of Halloween movies like the Scary Movie franchise, but it was extraordinarily unfunny in comparison.
I think it also felt kind of gross to watch?  I felt bad for Hubie, he had obvious difficulty with social interaction, such as interpreting what others are thinking or feeling, facial expressions, body language, and social cues.  It was meant to be comedic but came across more as an odd form of mockery to people who struggle with social interaction.
I would give the movie a solid two-star rating, solely because Hubie screamed because he saw a rock that said "Boo!"  Had it not been for that moment, the movie would have one solid star. 
My heart feels heavy as I know the movie was dedicated to the late Cameron Boyce who was meant to star in the movie alongside his fellow Grown Ups and Disney friends before his untimely death on July 6 of 2019.  I had high hopes for the movie but was ultimately let down.
A Babysitter's Guide to Monster Hunting 4/5
To be quite honest, my main attraction to this movie was Tom Felton who is known for playing Draco Malfoy in the Harry Potter Series, and Julian Albert, or Doctor Alchemy, from The Flash.  With the revival of the Harry Potter fandom over TikTok, I have found myself binge-watching Tom Felton movies and enjoying seeing my 
childhood crush again.  I was more than excited to hear he would be starring in a movie revolving around my favorite season, Halloween.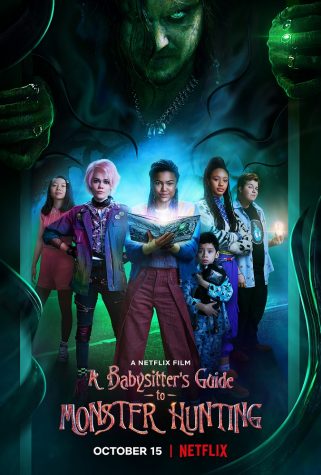 A Babysitter's Guide to Monster Hunting also stars Tamara Smart (Artemis Fowl), Indya Moore (Pose), and Oona Laurence (Pete's Dragon).
The story begins with a young girl and a monster in her closet, as the viewer begins to get their first gli
mpse the girl wakes up and is introduced as highschool math genius named Kelly Rowland (Tamara Smart). Kelly is an outcast due to claiming that when she was five years old she was attacked by a monster and thus has been given the name "monster girl" by her peers. Kelly gets roped into babysitting for her mother's boss and is tasked with babysitting Jacob (Ian Ho), a young boy with strict rules who is scared of the dark and claims to be able to "create monsters." When Jacob falls asleep the main villain (Tom Felton) comes to life with a goal to use Jacob's ability to turn nightmares into monsters in order to "wreak havoc on the world."
Jacob is snatched away by the Grand Guignol. Guignol meaning, the main character in a French puppet show, which seems fitting as the character uses hypnosis in order to control like puppets. When Kelly needs help, a babysitter named Liz Lerue (Oona Laurence) shows up to save the day. Together they encounter monsters and need to figure out how to save Jacob. It is revealed that Liz is weary to fight the Grand Guignol as he stole her younger brother away when they were kids.
Together through teamwork, they are able to defeat the Grand Guignol.
The movie has a PG rating and a more mystical feeling, catering to a younger audience. 
My notes for this movie were nowhere near as long as they were for Hubie H
alloween and that could be due to a few reasons. For one, I didn't dislike this movie. I didn't passionately hate it so thoughts did not spew out in the same way. Additionally, I am not the age demographic the movie is geared at and therefore had to see it through that lens instead, in order to have fair judgment. 
With that in mind, I would not recommend the movie to high schoolers on their own, but it is a terrific movie to turn on for younger kids when babysitting or watching with younger siblings.
The CGI or computer-generated imagery was rather poor. There were monsters called "toadies" that were created using CGI and they looked out of place against the real background. However, I could see that this format may have been done in order to not be too frightening for a younger audience.
There was a scene I enjoyed when the babysitters are looking for ingredients for a concoction that could defeat the Grand Guignol and they need to reach out to other countries. There were other teenagers in their respective countries using their native tongues. I was surprised by this when I heard a Spanish speaker followed by a young lady speaking Japanese. It was a cool scene with nice unforced representation that made me happy. 
Overall, here's my review.
I liked the movie but I think I am too old to enjoy it as I would if I were younger. If your siblings or kids you babysit enjoy Descendants then they may also enjoy A Babysitter's Guide to Monster Hunting.
The good news is, like Descendants, A Babysitter's Guide to Monster Hunting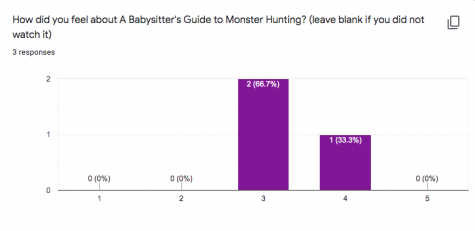 is based on a book trilogy, meaning a second movie is to come focusing on Serena the Spider Queen and retrieving Liz's missing brother.
Watching the next movie does not seem to be in the cards for me, as I am already too old for the first movie, Tom Felton's character is dead, and I have severe arachnophobia.
The movie is a solid four stars as I can see the appeal to younger children, there's a solid plot, and it was overall enjoyable.