The Votes are In: Student Council 2020-2021
One normalcy that has remained in this online school year is Student Council elections! Every year Panther Creek students run for different positions hoping to be the one selected to help make our school the best it can be. With creative slogans and picture-perfect posters, each candidate gets to share why they are the best fit. Here we have five elected officers from each class and the student body to explain their positions!

Meet Student Body Vi

ce President, Shreya Chordiya! She has been apart of the student council here at PC for three years now. When asked why she ran for this position, she states "Over these three years we've had some really great executive boards. I wanted to give back to the Student Council by running for an executive position, especially during this year as everything will have to be done differently. Chordiya believes she is the best fit candidate for this position because "In my three years on student council I've worked with my teammates to plan some pretty exciting events such as homecoming, prom, pep rallies, and more! I have great ideas for this year and am willing to try and make this year as fun as possible for everyone!" Shreya is hopeful that they will be able to some yearly traditions such as the food drive, homecoming, and prom even though they might look a little different.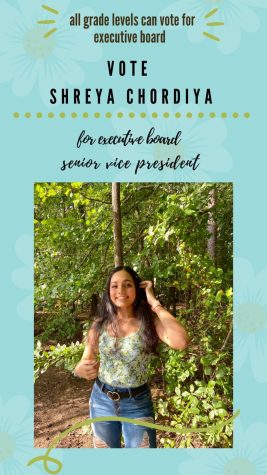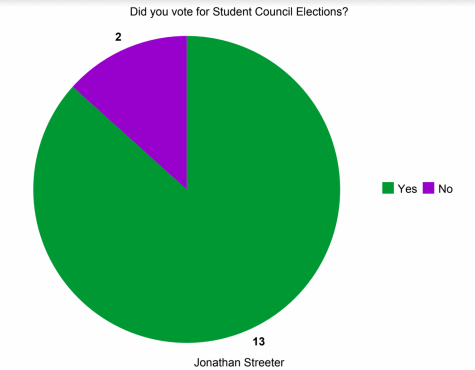 Say hello to the Senior Class Secretary, Sana Goya! She was involved in student council freshman year and is glad she has the opportunity to do it again. Goyal decided to run for this position because she wants to make sure that we can have a great year, despite our current circumstances. She believes that she's the best fit candidate for this position because she has a lot of past leadership experience and always meets the deadlines given. When asked about how she will help the school with her position, Sana states "With my position, I plan to help the school by making sure that students are aware of new updates with the special circumstances. I want to implement some form of virtual school announcements so that students can get to know about different clubs and opportunities first hand."
Kelly Kang is the Junior Class Vice President! She chose this position because she wanted to contribute to the school community and thought Vice President seemed interesting. Kang believes that she is the best fit for this position because "I have had previous experience in Student Council sophomore year so I already know how everything works! I also believe I have great ideas worth sharing." When asked about how she plans to help the school this year she states "I plan to only help the school positively by spreading school spirit and encouraging involvement even in the difficult times we are in."


Sophomore Class Vice President is Riya Shah! "I ran for Vice President because I knew it was an important position to uphold and I was willing and ready to take that responsibility. All in all, though I wanted to be apart of the Student Council because I genuinely love this school and want to be apart of making this unique year the best it can be!" Shah believes she is the best fit candidate for this position because she has always been hard-working, and passionate in everything I do. I understand the importance of communicating and listening with maturity and would use these skills constantly in Student Council. She hopes to help the school by making it as close to normal and fun as possible! For example, I want to encourage keeping spirit week alive and more. Incorporating fun challenges and trending hashtags would make this year so memorable!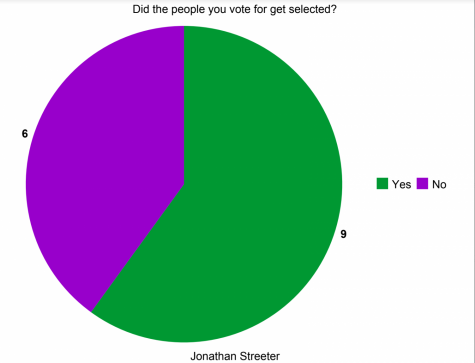 Last but not least, meet Aditya Nigam, Freshman Class President! He ran for president because I wanted to make our crazy year more enjoyable for everyone. I wanted social interaction and mental health to be our schools' number one priority. Nigam believes he is the best candidate because he's a good leader, communicator, and he always tries his hardest to get the best outcome for everyone involved. When asked how he hopes to help the school Aditya said, "Being in the high position I am, I plan to help our school tremendously by working with my team collaboratively to create mass virtual events where students can interact and have fun with each other! I hope to help create sessions that will curb mental stress as well."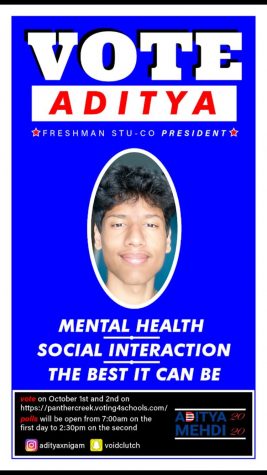 A full list of Student Council members can be found on the Panther Creek website under the Student Council tab in Students!