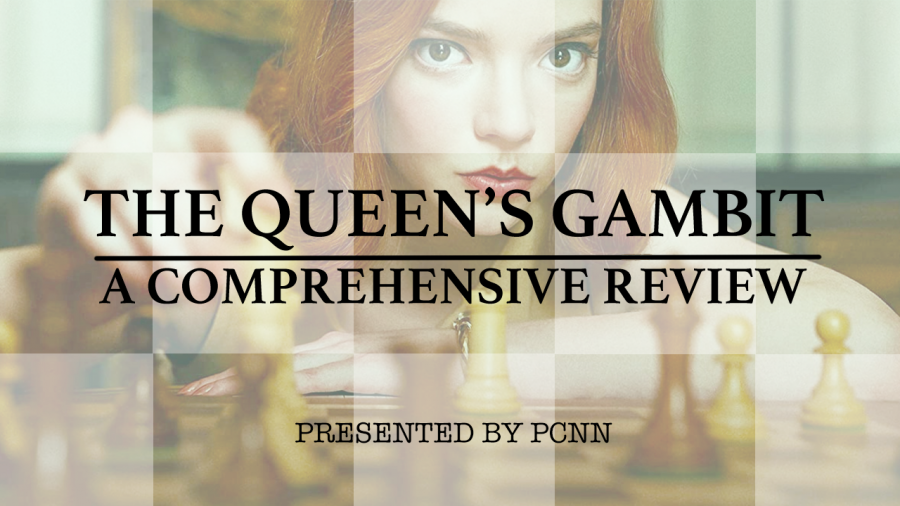 "The Pride and Sorrow of Chess": Queen's Gambit, a PCNN Review
March 25, 2021
Based on Walter Tevis's 1983 American novel, The Queen's Gambit came to Netflix in late 2020 as a seven-episode drama miniseries. Critically acclaimed and noted for its merit, The Queen's Gambit recently won a 2021 Golden Globe for Best Miniseries or Television Film, while its star actress, Anya Taylor-Joy, earned a plethora of awards, including the Critics' Choice Television Award for Best Actress. Reportedly, it's in the process of being developed into a stage musical. Upon hearing about its excellence, we at PCNN eagerly gave it a watch. In the end, The Queen's Gambit had checkmated our hearts. Minor spoilers ahead! 
What is The Queen's Gambit about?
The Queen's Gambit begins with a death. Nine-year-old Beth Harmon (played by Isla Johnston), a wide-eyed redhead with a quiet demeanor, is orphaned when her mom (Chloe Pirrie) commits suicide through a car crash. Beth is soon sent to an orphanage where she meets tough-as-nails Jolene (Moses Ingram) and develops an addiction to green tranquilizer pills — a sedative commonly used in the 1950s to keep children calm. In a chance encounter, she meets the orphanage janitor, Mr. William Shaibel (Bill Camp), who introduces her to chess. He quickly discovers her innate skill set, which is higher than most trained chess players, and he exposes Beth to chess at the local high school. Meanwhile, Harmon continues to take the sedatives in order to keep calm while she plays.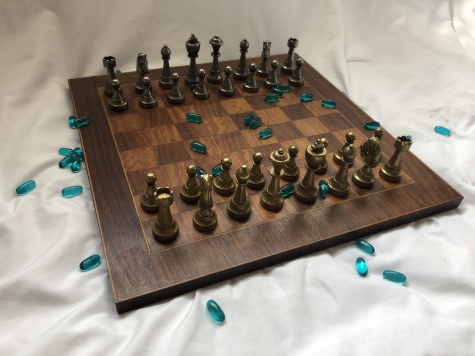 At fifteen, Beth (now played by Anya Taylor-Joy) is adopted by Alma Wheatley (Marielle Heller), leaving Jolene behind in order to explore her new suburban life. Alma is not the greatest influence on Beth; she condones heavy drinking and places no restrictions on her adoptive daughter, but is also an avid supporter of Beth's chess lifestyle. Beth faces many opponents — mostly men — in her competitions, surrounding herself with the sport, and meets awkward sweetheart Harry Beltik (Harry Melling), arrogant prodigy Benny Watts (Thomas Brodie-Sangster), and bookish journalist Townes (Jacob Fortune-Lloyd). Beth's journey is full of ups and downs as she struggles with addiction and unfulfilling romantic relationships. As her opponents get tougher, including Russian player Vasily Borgov (Marcin Dorocinski), her dependency on the pills, alcohol, smoking, and winning her chess matches, become higher. 
So, what's the big deal?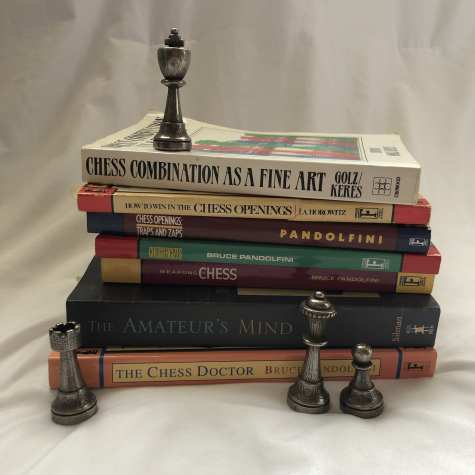 We found that The Queen's Gambit explored more than the mystical world of chess, and honed in on topics such as addiction, feminism, coming-of-age, sexuality, and unhealthy relationships. Beth's evolution into womanhood is handled with an utmost elegance by its storytellers; we watch her get teased by high school girls for her old-fashioned clothes, spend time shopping with her mother, play chess in a male-dominated field, engage in sexual encounters for the first time, and develop crushes on both male and female characters throughout the show. Overall, Beth Harmon was relatable, as PCNN Staff Maria Louis mentioned, "…A lot of the way she handled problems and a lot of the way she dealt with stuff is very realistic…I felt like it showed a human side of her…" 
As for Beth's unhealthier habits, we get to explore that darker side of her as well. Vanessa Richey, PCNN staff, summarizes it quite well, "We got to see the contrast between how she was in the chess match and how she was when she existed outside of the chess match….She was so developed in that aspect of her life that she was underdeveloped in the human side of her — hence the addiction, the reliance on drugs and alcohol and everything." 
Rivaling Taylor-Joy's lovable Beth are some of the supporting characters: Harry Beltik, D.L. Townes, Benny Watts, and Jolene. When asked to pick a character, Maria confessed, "I can't choose a character 'cause they're all really good." We found each and every secondary character (except you, Allston Wheatley, we know what you did) wholly original and charming in their own ways, as well as portrayed with care by their talented actors; their support for Beth is as relentless as the viewers', and adds an underlying theme of found family by the end of the show, which brought tears to our eyes.
Ultimately, The Queen's Gambit is told in a format we've never quite seen before, starting with the introduction of a prodigious female main character — even one, some might dub, a Manic Pixie Dream Girl. Beth Harmon is deemed as desirable to a plethora of male characters in the show for her mystique and independence, a stereotype commonly found in the Manic Pixie Dream Girl trope. However, The Queen's Gambit takes this popular cliche and proves it wrong by breaking down Beth's character through the series, letting the audience see her insecurity, breakdowns, and the uncomfortable reality of her struggles with substances. Beth is no doubt a strong female character, but she's a female character who panics, plummets, and ultimately climbs back to her feet.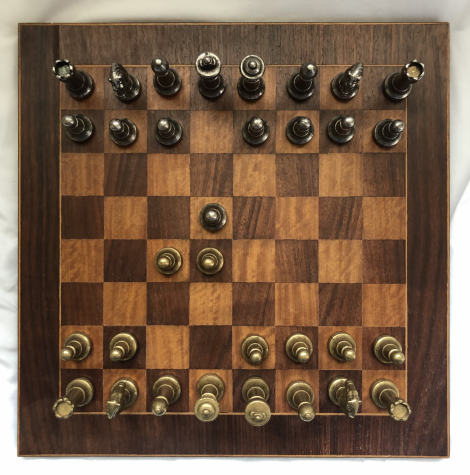 So, our honest review? 
Honestly? 10/10. 
Unrealistically, we all said something along the lines of 500/10. 
But seriously, a lot of us would watch it again. It's worth the watch, and deserving of every award it has won. Like chess pieces, we were moved.