Coven Oldenwilde: Witches of Asheville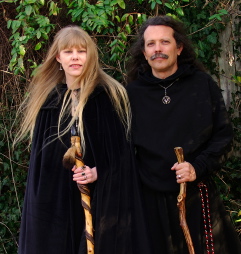 Witches. When this word is heard many stereotypes come to mind: broomsticks, full moons, spells, cauldrons, black cats, and evil cackling laughter. This is the way witches have been portrayed in media for many years, but in reality, witches are regular people who practice an atypical religion. Some people may be confused by what they just read seeing as witches have always been a part of fantastical stories, but PCNN reporters had the chance to talk and learn about the people who practice the religion known as Wiccan.
Throughout the world there are many groups of witches, known as covens, that traditionally consist of about thirteen members called priests/priestesses and witches. In order to reach the level priest/priestess within the coven they must study the Craft for at least one year. The longer a person has studied and practiced the higher the degree they can be elevated to which include First degree Initiates, Second degree Elevants, and the highest level, Third degree also called Wiccan clergy. Because there are many different covens that consist of unique members who have different approaches to the Craft, no two covens operate precisely the same to promote spiritual diversity.
In Asheville, North Carolina, there is one such coven, the Coven Oldenwilde lead by High Priestess Lady Passion and High Priest *Diuvei. We were able to communicate with these leaders and to learn about their Coven as well as the beliefs specific to the Coven. Included below are some of the questions that we asked and their exact answers. This was a great opportunity to learn more about a belief I had only heard about in passing and to have certain hateful stereotypes clarified.
"
The longer a person has studied and practiced the higher the degree they can be elevated to which include First degree Initiates, Second degree Elevants, and the highest level, Third degree also called Wiccan clergy."
On your site you say that due to many different sects no two covens practice in the same way…
"To clarify: As all people are innately unique, no two Covens may operate *precisely* identically. Witchcraft encourages freedom of expression and self/group magical deepening over time based on experience. The general effect of this is to promote diversity of spiritual approach. Further, many magical groups are formed by folks who've read one or more books about magic or simply feel drawn to Witchcraft and hence, are not well-trained by a teach in the Olde Ways. In contrast, traditional Gardnerian Covens such as Coven Oldenwilde probably come the closest to consistent Craft practice because we share specific oral transmission of information, as well as a written Book of Shadows that perpetuates our beliefs, history, ethics, rites, and customs, etc. Even so, Gardnerianism allows each Third degree High Priestess of a Coven to operate independently; she may ask for guidance from her teacher as necessary or desired, but can use her talents to best effect without permission from them."
…So I was wondering what are some of the main focuses of the Coven Oldenwilde and any practices that you and your members may perform that may be different from others.
"My Coven Oldenwilde has 4 primary foci: 1) Educating everyone about the antiquity, beauty, and validity of magic in daily life 2) Eradicating the persecution of Witches by monotheist bigots (Xtians, Jews, and Muslims) 3) Teaching Seekers effective magic, survival techniques, and Olde Ways to thrive 4) Serving as clergy counselors of needy folk worldwide Ways Coven Oldenwilde differs from others is that we practice a blend of formal British Traditional Gardnerian and gutteral Italian Strega magic. This gives us a balance that's heady and highly effective."
The site also says that male witches are only known as witches and I was wondering if there is a specific reasoning behind this or if that is just the way it is.
"In antiquity (when Witchcraft began), both males and females served as Priest/esses in temples, at sacred sites, and officiated spiritual rites and conducted annual Sabbats or festivals.  Witches tends to continue this reasonable tradition of equality: It matters not whether someone's male, female, transvestite, gay/lesbian, or post-surgical gender reassignment, etc.: Anyone can work magic if they apply themselves, and those who do so are called Witches.  A warlock is not a term for male Witches, but rather, is any Witch who has been found to have broken a magical oath they made, such as not to reveal the identity of a Covenmate who prefers privacy, etc."
For anybody who wants to learn more about Wiccan and the world of Witchcraft or more about Coven Oldenwilde pleaswe visit their website.