Catamounts Take Over the Triangle, Knock #1-Ranked Leesville Down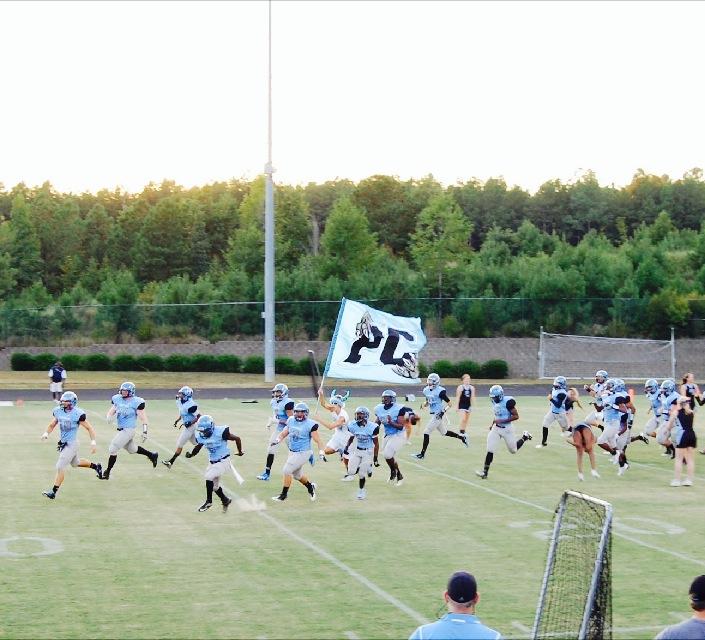 Caleb Lawrence, Staff Reporter, Sports
September 24, 2013
In perhaps the biggest victory in recent memory, the Catamounts, led by running back Dorrel McClain's five touchdowns, erased an 18-0 first half deficit to defeat the Leesville Road Pride 34-21 on Friday. Led by one of the nation's most sought-after recruits, Braxton Berrios, the Pride entered Friday night's showdown ranked sixth in the state with a 3-0 record and a 23 game home winning streak.
Early in the game, it looked as if Leesville Road would run past Panther Creek as they quickly lit up the scoreboard with eighteen points, including a touchdown run and a two-point conversion from Berrios. After some key stops in the second quarter by the Catamount defense, the offense finally clicked as McClain found the end zone to pull PC to 18-7 before half time. The energy on both sidelines would shift drastically as Berrios exited the game with a foot injury on the Pride's final drive of the half.
The Catamounts came into the second half fired up, scoring on their first opportunity to bring the score to 18-13. Panther Creek would take the lead on the first play of the fourth quarter as McClain punched the ball into the end zone on a one-yard run. A two-point conversion gave the Catamounts their twenty-first point. One defensive stop and a good Leesville punt later, and the Catamount offense found themselves playing in the shadow of their own end zone. That wouldn't stop the offense though, as Magner handed the ball off to a red-hot McClain, who ripped off an impressive 89-yard touchdown run, breaking tackles in the open field along the way, to give the Catamounts a ten-point lead.
McClain finished with a career-high 229 rushing yards, 213 of which came in the second half, and five touchdowns, all on the ground. Quarterback Brendan Magner was also a key player in Panther Creek's comeback win, finishing with 200 yards through the air on twelve of twenty-two passing. After the big victory, the Catamounts (3-1, 0-0 SWAC) prepare to open their conference schedule at home against Athens Drive (3-2, 1-0 SWAC), who recently won their conference opener over Green Hope.
 Please note the picture shown is a PCNN File Photo. File Photo By Celine Powell.