Catamounts Put Season on the Line Friday
Panther Creek's football game against Middle Creek on Friday will set the tone for the rest of the season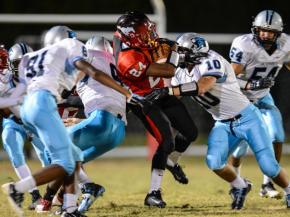 Caleb Lawrence, Staff Reporter, Sports
October 11, 2013
In 2010, Kameron Bryant hit CJ Liley for a two-point conversion to cap off a win over Fuquay-Varina that would put Panther Creek in control of their own destiny to win the Tri-9 title. Now, faced with a different opponent, Middle Creek, and a new conference name, Southwest Wake, the Catamounts are finding themselves in a similar situation this Friday. With a 2-0 record in conference play, the Catamounts have a legitimate shot at becoming the first football conference champions of the SWAC. The Mustangs also come into Friday's showdown 2-0 in conference play and have dreams of a third straight conference championship.
The Catamounts and Mustangs have been thorns in each other's sides for the past few seasons. In 2010, Middle Creek derailed the Catamounts' hopes of an undefeated season with a 42-21 victory at Middle Creek. In 2011, the Catamounts exacted revenge on the soon-to-be Tri-9 champions with a 16-7 home victory. The Mustangs would later beat Panther Creek 28-20 at Middle Creek in the first round of the state 4-A playoffs that season. Last season, Middle Creek was victorious, beating the Catamounts at home.
Coach Crocker is no stranger to the Mustangs, whom he coached before becoming Panther Creek's head coach last season. Crocker is still seeking his first victory over his former team, which still features players that he has coached.  Not only will Crocker get a chance to defeat his former team on Friday, but he will get a chance to get a leg up in the conference championship race.
Panther Creek and Middle Creek are ranked 13th and 14th, respectively, in High School OT's top 15 rankings, so there is no doubt that this game will have a big impact on the 4-A state playoff seeding. The winner of this game will likely earn a two seed in the playoffs if they win the rest of their games. Panther Creek has a slight chance to be granted one of the coveted one seeds if they run the tables; they only have one loss on their record in addition to enjoying such a large margin of victory. The Catamounts are outscoring their opponents this season by an average of 30-11. A win over Middle Creek would certainly bolster the Catamounts' resume when the selection committee sits down at the end of the season.
The "Battle of the Creeks" kicks off at 7:30 pm at Panther Creek High School Stadium. Both teams are expected to fill up the stands to witness the biggest regular season SWAC conference game of the season. It's sure to be an epic battle that will have everyone on the edges of their seats until the final whistle.
Photo courtesy of HighSchoolOT.com.