Catamount Footy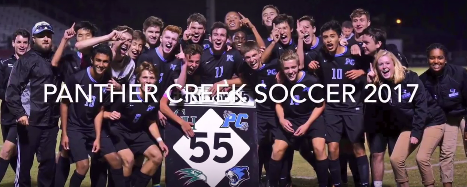 Advertisement
Hang on for a minute...we're trying to find some more stories you might like.
This year at Panther Creek the men's varsity soccer team was stacked with talent, with students as young as ninth grade, and had an outstanding year on the field. With a record of 15-7-1, the boys were ranked 2nd in their conference, and 9th in the playoffs. They secured a "W" in the first round of the playoffs as they defeated Corinth Holders with a score of 4-2 (Senior Liam Camilleri with all 4 goals). The end of their season came in the second round of the playoffs, as they lost to a talented Ashley High School team by a score of 6-0.  Although the season ended earlier than the team hoped for the players and head coach Chad Sichak was happy about the progress over the season and shared some of their favorite memories with PCNN.
Chad Sichak was proud of how his team had grown over the course of the season and felt that the season was going well. In an interview before the first playoff game of the season, Coach Sichak stated, "We started to click and everybody started to understand their position and their role." He emphasized the team clicked about seven games ago and has been on a seven game winning streak since then. He concluded with a remark that gave a positive attitude towards their playoff chances: "We're playing, I think, the best soccer we've played in the past two years going into the playoffs."
The best moment of the season for many of the players came from a win against Green Hope.  Grant Stidham said, "It felt pretty great," and added that it was even better since it was at Green Hope. Senior Captain, Liam Camilleri said, "It felt really good because they were not good at all," when asked about how he felt about getting a W against Green Hope.  Last but not least, Liam O'Dowd shared that beating Green Hope was "one of my favorite memories of Panther Creek soccer."
Overall, the Panther Creek Men's Soccer season was a success and the players who shined throughout the season received recognition for it. AJ DeVivo, Liam Camilleri, Noe Varner, and Jaden Cross were recognized as all-conference players of the year. Liam Camilleri was recognized as the Tri-6 player of the year and his record breaking season most likely had something to do with that. Camilleri netted 33 goals over the course of the season, which was an astounding difference from the old record of 22.