2019 Panther Creek Women's Volleyball
Advertisement
Hang on for a minute...we're trying to find some more stories you might like.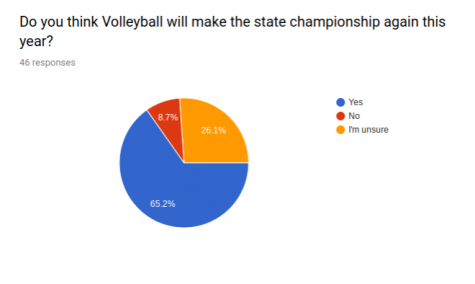 Panther Creek Women's Volleyball is having an unbelievable season this year. According to MaxPreps the Catamounts are 3o-4 overall and 13-2 in conference play. They are ranked 9th in the state of North Carolina and are riding a 7 game win streak. After a heartbreaking loss in last year's NCHSAA 4A State Championship against rival Green Hope, the ladies of this team are looking for a return trip to states and are more confident about it than ever.
Senior Lauren Della, an Outside Hitter for the Catamounts says, "we have worked really well as a team and we really want to win, so overall we all have the drive to beat Green Hope and other really competitive teams," when asked about the team's success.
Della mentions Panther Creek's biggest rival Green Hope, who beat the Catamounts in last year's State Championship game. Green Hope has won the last three State Championships and is the number two team in the state of North Carolina. The Falcons are 16-2 overall and 8-0 in conference play. Panther Creek and Green Hope have a big match-up against one another this Thursday and it is a rematch from last year's State Championship Game.
Another Outside Hitter for the Catamounts, Senior Miranda Deoliveria says, "we need to play like it's any other game, not be scared of the rivalry and the name," when asked about what Panther Creek needs to do to beat Green Hope.
The Catamounts have their eyes set on the ultimate prize this year and it's not a win against Green Hope, although the Catamounts wouldn't mind a win against their arch-rivals on Thursday, October 3. The ultimate prize for these ladies is a return trip to the State Championship.
Sophomore Nicole Deoliveria, a Setter for the Catamounts, when asked about the team's chances in going to the State Championship, said, "pretty high, and hopefully, we will make it their again this year."
The confidence that the ladies of the Panther Creek Volleyball team process has been a part of their success this season, and will continue to be a driving force throughout the rest of it. Panther Creek fans will have something to cheer about  the rest of the season in the 2019 Panther Creek Volleyball team.