Food Fight For 55: Recap
Beating Green Hope has never tasted this sweet..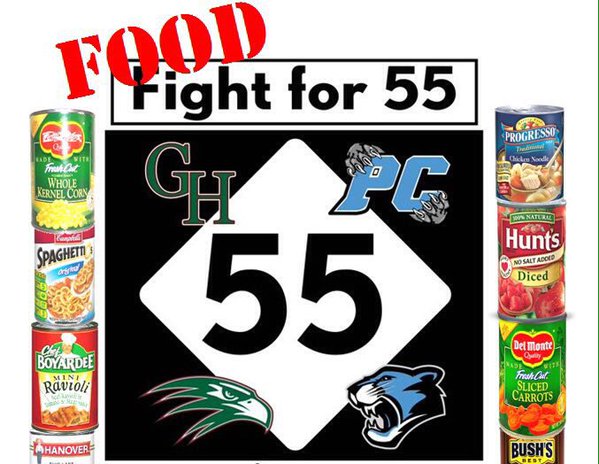 Hang on for a minute...we're trying to find some more stories you might like.
Panther Creek held its annual food drive this year from December 4th-16th, and decided to add a little twist to the cause. This was the first ever Food Fight for 55! The Food Fight for 55 was a new competition between Green Hope and Panther Creek to determine which school can donate the most food to the Food Bank of Central and Eastern NC, but this wasn't the only wager; the winning school's student section leaders get to make the opposing school's student section leaders into ice cream sundaes! With this punishment on the line, both schools were heavily taking over social media with videos featuring the hashtag (#)55TrickshotContest and various infographics, encouraging their students to bring cans to their homerooms.
Donate food to the Food Fight for 55 to beat PC! Your move @_bpizza #55TrickshotChallenge pic.twitter.com/kTigjgWgrH

— Falcon News Feed (@falconnewsfeed) December 4, 2015
?FOOD FIGHT FOR 55? Bring cans to your second period teacher until 16th to beat GH?. #55TrickshotChallenge @wesy_wes pic.twitter.com/FlwzCCgDOC

— PCNN (@PCNewsNetwork) December 6, 2015
Winning in landslide fashion, Panther Creek gathered 3,860 pounds of food while Green Hope only gathered 2,268 pounds. The Falcons will find themselves in various sticky situations at the next quad game at Panther Creek; Green Hope's student section leaders will be made into ice-cream sundaes by our very own Catamount Chaos on January 29th during halftime of the Varsity Boys basketball game that night!