Liam and Michael Show- Inaugural Show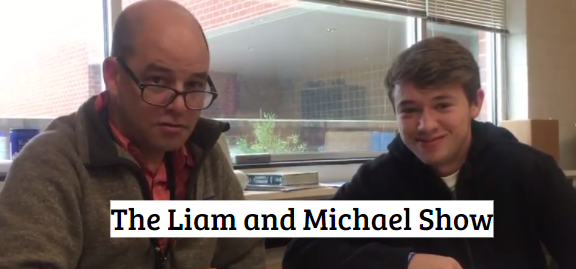 Advertisement
Hang on for a minute...we're trying to find some more stories you might like.
Established on November 1, 2017 the Liam and Michael show was born. The Liam and Michael show is a day in the life at Panther Creek high school from the eyes of the extraordinary duo of Liam and Michael. Liam has recently broke the record of most goals scored in a season for the Panther Creek soccer team. Michael's hidden talent is that he can rep a bench press of 90 lbs about 305 times. Throughout this story Liam and Michael ask fellow students at Panther Creek about their daily lives.
To open the interviews with Panther Creek students, Liam first interviewed a good friend of his named Graham Merrett. Liam asked Graham why we has been neglecting the boys so lately, and Graham replied that he is not. Graham did seem to be a bit heated from this question, but he ended up being okay. The main question that was asked to everyone that was interviewed for this story was  "What Saturday's are for?" Every single person answered: "For the boys!" Except for Mr. Hoey (the GOAT), who answered "to get ready for Sundays." Another question that was asked by Michael to a fellow freshman student named Brad was what his chill to pull ratio is and he replied with a strong "five to five." Clearly, Liam and Michael haven't heard a ratio like that since McCoy was here. Throughout the video you see newspaper reporter Shea Vore doing absolutely incredible parkour in and outside the grounds of Panther Creek.
As we look back on the first Liam and Michael show, we see it has a different view of what we usually see at our home high school. It allowed us to see different sides of students here that we usually don't see at school. This is the Liam and Michael show, Peace out…. Liam and Michael out.