What are PC student's favorite holiday traditions?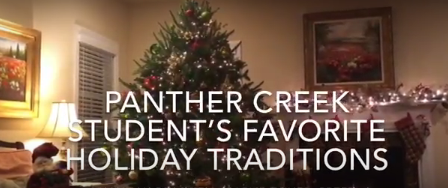 Advertisement
Hang on for a minute...we're trying to find some more stories you might like.
In this story, PCNN asked Panther Creek students what their favorite holiday traditions were. The holidays are a time away from everyday life and stress, and most students look forward to the holiday break. The answers varied from spending time with family, giving gifts, traveling, and decorating for the holidays. Although all students have unique traditions, most students enjoy and look forward to holidays, time off, and the new year. We also polled other Panther Creek High School students, and their favorite holiday traditions are listed below.
Poll Results for Panther Creek Student's Favorite Holiday Traditions