Liam and Michael Show – Trivia
Hang on for a minute...we're trying to find some more stories you might like.
Ladies and gentlemen, hang onto your socks because this story is about to blow them off… Or honestly just kick back and enjoy the show. To start off with a little background information, Liam and Michael are two fantastic individuals. They started the Liam and Michael show on November 1st, 2017 and are now releasing the amazing sequel of trivia edition.  
To start off the questions asked to fellow PCHS peers, they were asked what shoe size does Donald Trump wear. Out of the eight individuals that we interviewed, only one person answered the question correctly. Skyler Georges answered the question with an astronomical guess of a "kids size 6". Good guess Ms. Georges, but not quite. A survey was conducted on social media asking this question to people and 31% of the people answered the question correctly of size 12 while the second top answer choice was size 7.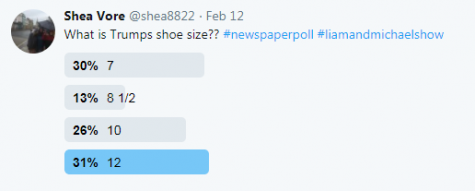 A group of Panther Creek students have created a school sensation song called "B**** Bounce". Liam asked students to finish a lyrical part of the song while asking if you were hanging with your shawty and Rafi Papi walks in, what might your girl want? Many people got this question correct due to the song being very popular within the school. The correct answer is "his body". Liam was not surprised with majority of the interviews getting this question correct.  
Overall the Liam and Michael trivia sequel stumped a lot of people with the questions that were asking in the video. The students can now thank their interviews for allowing them to gain more knowledge. This is the liam and michael show….. Liam and Michael out.