Interesting classes at Panther Creek
Panther Creek High School is full of different classes and each of them are interesting in their own way. There are a few classes that are not known very well but are engaging.
Dance:
In the 1300s hallway near the back courtyard of the school, we have a classroom set up like a dance studio for our Panther Creek dance class. They are graded off of personal projects and do concerts throughout the year. The main rule in the classroom is to not wear shoes and have a good time.
Game Art Design:
Throughout the semester, students in this class use programs like illustrator and unity to make projects. Three of the major projects include making a card game, board game, and video game.
AP Computer Science:
In this class students learn problem solving skills and focus/hone in on the use of these problem solving capabilities to complete parts of programs. They use the java program in this class.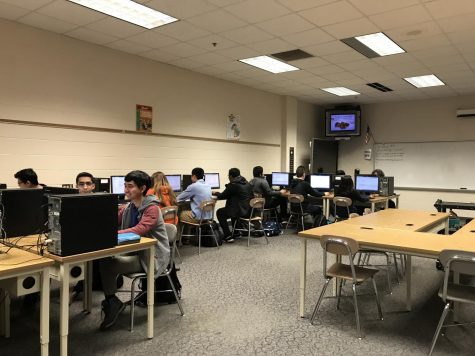 Vietnam:
This class takes an in-depth look into the Vietnam war and spends time looking into what happened and how it happened. This class is an interesting course that has a short time span to cover as opposed to the other history classes offered at our school. Therefore, it allows the class to move at a slower pace.
Principles of Business and Finance:
Students enrolled in this course learn to enhance their verbal skills and communication skills in order to better equip themselves for the business world. Kids in this class research, work collaboratively, and harness their creativity. They also work on fun projects and through these activities increase their global awareness.
Digital Media:
Digital Media is a class where students learn how to use adobe products. They learn how to use photoshop, Premiere Pro, Audition, and Flash through out the first class. In Advanced Digital Media they learn how to use Indesign and Illustrate. The students will do certain projects depending on the unit and take tests based off the elements and principles of design and on how to use the certain products. This class can go up to Technology Advanced Studies where the students can pick their own projects and focus on a specific program.