A Sneak Peek Into the Triumphant Lady Catamount Lacrosse Team
Hang on for a minute...we're trying to find some more stories you might like.
As the spring sports season swung into action, it was evident that the Catamount Women's Lacrosse Team was going to be a dominant force in the new Tri-6 conference. Their season started off with an 11-0 record, which was the best record in school history for the Women's Lacrosse Team. Currently, they have a record of 16-1, and are 12-0 in the Tri-6 conference. With a team of three Division 1 college commits, they have composed a strong resume to make a run for the NCHSAA 4A State Title.
You might be wondering how the lady catamounts have been able to create such great success over the span of their season, but don't worry, they gave us a pretty good insight on some of their tips and tricks to a triumphant season. Senior captain and Wofford Lacrosse commit, Abbi Pagano stated that, "I think that with this group of girls, everyone is just so dedicated which is different than the past." As a four year varsity player, Pagano knows what it takes to bring a team to the next level and has done that this year with a team that she describes as, "willing to put in work."  Additionally, we asked Evelyn Edwards what she thinks has made the team so successful this year.  She told us that Coach Reist brings up a new "C" word each week to give the team motivation to win. With this "C" word, they spray paint it onto the field and practice on it so they have it in their memory while they play, pretty cool right?
Super Saturday, one of the biggest events of the year, gave a spark to TWO new "C" words for the Women's Lacrosse Team: Conference Champions. Super Saturday is an event that Green Hope and Panther Creek compete in to determine which team wins the FightFor55. This year it held the Women's Lacrosse Conference Championship between Panther Creek and Green Hope. Panther Creek came out on top, which was quite the bittersweet moment for most of the team considering Green Hope has always been their strongest competition.
Hopefully, the conference championship was just the first championship they will have won this year, and we wish them the best of luck in their chase to the State Title.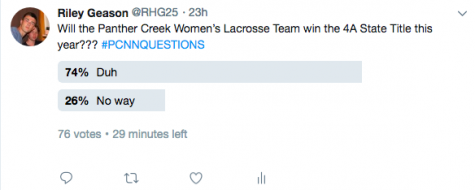 Seek the Truth and Report it.