Panther Creek Powder Puff 2019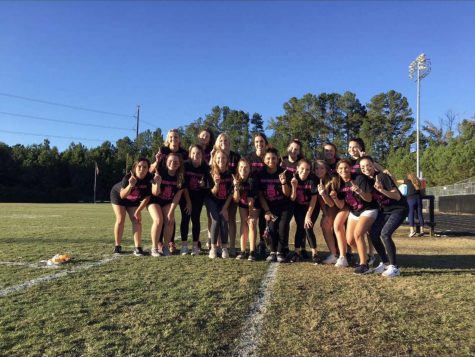 The boys and girls got their chance to reverse roles on October 17th when Panther Creek hosted their annual powder puff football game. Girls had the opportunity to play flag football, grade versus grade. The freshman took on the sophomores and juniors took on the seniors. Boys signed up to coach and dress up as cheerleaders.
During the freshman/sophomore game, the freshmen were able to overcome the sophomores and place a win towards the spirit week competition. Campbell Sallean, a sophomore says, "I felt a little disappointed that we lost but still really proud that we we're able to score and have so much fun together". 
Many fellow students and parents came out to support the girls and most had their bets on the senior girls winning. Before the game, Delaney Edger, a senior in her 4th year playing powder puff states that, "I think seniors will win because we're the best at everything". The senior girls ended up dominating the juniors girls, 26-12. After only one practice, Parker Walter, coach of the senior girls, was able to teach the girls plays. They were able to execute them and come out on top.
Powder puff has been a long and ongoing tradition at Panther Creek. It gives the students an opportunity to encourage inclusivity and sportsmanship. It allows students to work together and have a fun time no matter the outcome. Panther Creek hopes to continue this tradition for years to come!