Panther Creek Winter Signing Day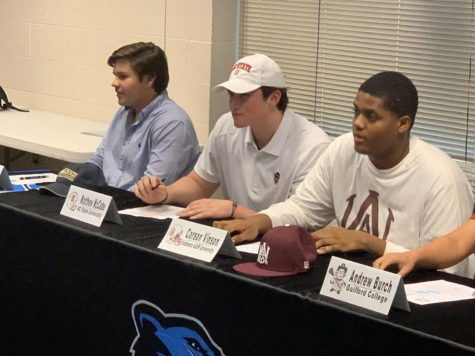 ---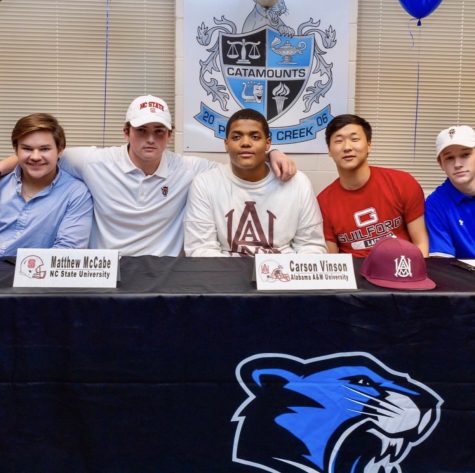 Last week, Panther Creek hosted their 2nd signing day on Wednesday, February 5th of the 2019-2020 school year. In room 2613, we watched five male athletes sign themselves to sports for their college life. 
Three of those athletes included Matthew McCabe, Carson Vincent and Jackson Fox for football. McCabe to North Carolina State, Vincent to Alabama A&M, and Fox to Wingate.
Matthew McCabe has been playing baseball for Panther Creek since his freshman year. However, a little talk from head football coach, Crocker, his junior year led to him grinding at summer workouts and attending tryouts. McCabe worked up to starting as a defensive end and was able to conquer lots of teams. After the football season ended in early November, McCabe took a visit down to Raleigh and a few weeks later announced his commitment to play for NC State University. 
Carson Vincent is a 6'6 senior at Panther Creek and decided to follow in McCabe's footsteps and tryout for the basketball team. However, football has been his strong suit and he's been a part of the team since he was a freshman. Vincent has been a key player as Panther Creek's best left tackle. He's had an offer from Alabama A&M for some time but kept his options open. He ultimately decided to play for them and will head far from home in the fall. 
Jackson Fox has been dedicated to his football career since his freshman year. You can find him in the weight room after school or attending every single summer workout. Fox has been working extra hard his senior year to get himself to continue to play football in college. After talking to Wingate, he announced his commitment and has been excited ever since. Fox says, "I'm really looking forward to not only playing football, but for an education in biology and doing grad school afterwards". 
Panther Creek also recognized two lacrosse players, Andrew Burch and Zachary Lombardi. 
Andrew Burch is a key player for the Panther Creek lacrosse team but is also a key athlete for the Panther Creek athletics department. He has been recognized for many awards such as all-conference and mvp. His stats for goals are way above the national average and has been a starting attacker for varsity since his freshman year. He will plan to attend Guildford in the fall.
And last, but not least is Zachary Lombardi. Lombardi is a goalie for the Panther Creek lacrosse team and as his coach (and dad) says, "It takes a real tough guy to stand in front of a goal and let guys shoot a hard ball at you with all they've got only a few feet away". Lombardi plans to play for St. Andrews University in the fall and says, "years of experience outside Panther Creek lacrosse with travel coaches and other programs" when asked what has prepared him to play at a college level. 
Panther Creek celebrates it's winter signees and is getting prepared with spring sports tryouts this week. Panther Creek will host one more signing day in the spring.