Volleyball's season overview
On October 29 the Panther Creek Volleyball team played South View High School. According to MaxPreps, the Catamounts won 3-0 over South View. This result came to no surprise to the players on the team. Senior Lauren Della, Senior Miranda Deoliveria, and Sophomore Nicole Deoliveria thought that the Catamounts were going to win.
Outside Hitter Lauren Della had an amazing game with 7 kills, 3 sets, and a hit percentage of .045. Setter Nicole Deoliveria had 2 kills and 3 sets. Libero Miranda Deoliveria had 3 sets in the game.
Lauren Della's strategy going into the game was to "set whoever is on and be scrappy in the back row." It proved to be an effective one as she had one of the best stat lines in the Catamounts win.
The Catamounts were unsuccessful in their ultimate goal of a state championship as stated by Lauren Della. The Catamounts eventually fell to Hoggard High School in the next round 3-1. This was a disappointing end to a promising season.
The Catamounts had a great season and we are all very proud of the ladies on the team. We wish the seniors the best on the part of their lives, and we wish the players who will return for the next season the best of luck.
This photo the team is celebrating taking a set off of Green Hope, Panther Creeks rivals. As you can see all of the girls are filled with excitement as they dominated the set. Miranda, Nicole, Lauren, Diana, Emma, and Sara all celebrating the moment.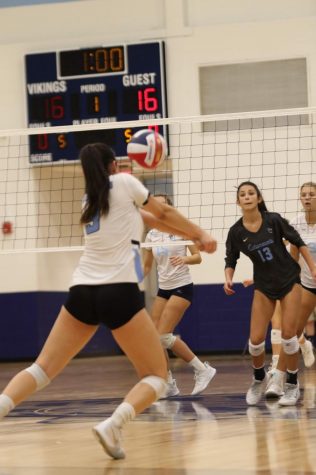 Miranda DeOliveria about to hit the ball, with her sister Nicole in the back ready to spike it over!