Despite loss, Catamount football reflecting back on 2014 success
Panther Creek joined a small company Friday night, becoming the third 4A team since '06 to reach the eastern semifinals twice in both football and basketball.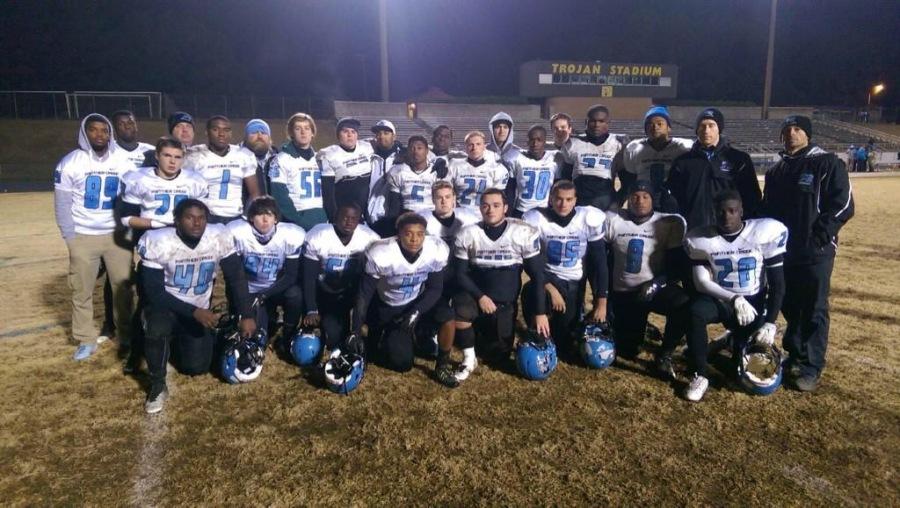 GARNER, NC – It is often said that to reach a large goal, you must take gradual steps in doing so. In his third year as head coach of Panther Creek football, Sean Crocker has seen his squad improve each season. From 1-11 in his inaugural year, 9-3 in 2013, to 11-3 and the school's second ever trip to the 4AA Eastern Semifinals in 2014, there isn't much debate on the upward trend of Crocker's teams. Nine starters will return on the offensive side of the ball in 2015, the potential possibilities are endless under his leadership.
Despite a 31-6 loss to the hands of Garner (13-1) in the semifinals, Crocker had only positive things to say when reflecting back on the 2014 season. "I'm proud of the way our guys fought and overcame things," he said. "We were picked to be in the bottom third of our conference, our guys didn't accept that and they came out fighting every game." The Catamounts' season was highlighted by a nine-game win streak in the middle of the season, as well as resilient winning efforts in the first two rounds of the playoffs (Holly Springs, Green Hope).
Despite having more offensive yards than Garner (202-163), Panther Creek still fell by their largest deficit of the year, partially due to losing the turnover battle 5-to-0, also their largest margin of the season.
Despite being held back by an MCL injury all season, senior receiver Tre' Sullivan turned in a huge night, amassing 118 all-purpose yards (2rec, 76yds, 42yd PR). "I went into it knowing it could be very easily my last game ever, as it turned out to be," he said. "I wanted to make the most out of every opportunity that I got."
For the fourth consecutive game, Panther Creek gave up the opening touchdown, this one coming in just 15-seconds as David Hamilton took the opening kick-off 87-yards for Garner. Minutes later, Junior Diamante Taylor took a punt 92-yards for a score for the Catamounts, but it would come back due to an illegal block in the back penalty. The Trojans would double their lead soon after as Nyheim Hines bounced in a 15-yard rushing score following a Panther Creek fumble, his 99th offensive touchdown as an upperclassman.
The Catamount offense struggled early, totaling negative yardage in the first quarter, but senior quarterback Brenden Magner came out strong in the second. Following a rushing score from Collin Eaddy, Magner lead his team on a 67-yard drive capped off by a 35-yard pass to Taylor to narrow the Garner lead to 21-6.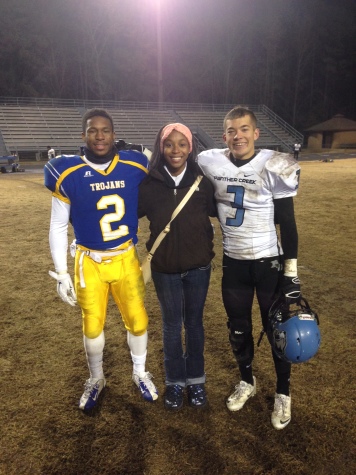 In the first two rounds of the playoffs, the Catamounts had excelled in the second half, outscoring their opponents 45-21 (including overtime). A late comeback wouldn't be in the books this time around, as Raekwon Britton took a questionable fumble back 50-yards to put the Trojans up 28-6 early in the third quarter. A 27-yard kick from Nathan Giroux would give the Trojans a 31-6 lead, one they would not relinquish.
"Our guys kept fighting, they never gave up, including tonight," said Crocker.
Garner travels to Wake Forest next week to play in the 4AA Eastern Championship.
Final Statistics
Passing
Brenden Magner: 2,306yds, 21TD, 15int
Dom Samson: 107yds, 1TD, 1int
Jordan Cain: 99yds, 1TD
TEAM: 2,547yds, 23TD, 17int
Rushing
Toney Bass: 885yds, 6TD
Addison Pinkney: 316yds, 3TD
Akeem Smith: 82yds, 1TD
Devon McNutt: 97yds, 1TD
Jordan Cain: 23yds
Ryan Callahan: 24yds
Brenden Magner: -71yds, 2TD
TEAM: 1,338yds, 13TD
Receiving
Justin Smalls: 40rec, 497yds, 6TD
Diamante Taylor: 38rec, 584yds, 8TD (also one return TD)
Caleb Cross: 38rec, 538yds, 4TD
Toney Bass: 31rec, 247yds, 1TD
Tre' Sullivan: 23rec, 256yds
Ivoree Atkinson: 14rec, 238yds, 2TD
Cameron LeBlanc: 5rec, 36yds, 1TD
Cole Jonhson: 5rec, 50yds
Dallas Hancock: 2rec, 35yds
Jimmy Jones: 1rec, 46yds,
Ryan Callahan: 1rec, 1yd, 1TD
Addison Pinkney: 7rec, 19yds
TEAM: 206rec, 2,547yds, 23TD
Top Defensive Statistics
Ryan Callahan: 100tckl, 5sck, 4int
Isaiah Laster: 64.5tckl, 1sck, 7int
Quran Moon: 64tckl, 1int
Julian Wheaton: 56.5tckl, 6sck
Devon McNutt: 52.5tckl, 2ck
Matt Mitchum: 50.5tckl, 2sck, 2int
Da'Shaquan Campbell: 48tckl, 7sck
Dallas Hancock: 45.5tckl, 5int
Juwan Byrd: 43tckl, 3int
Joshua Guest: 39tckl, 7sck
Steven Pastirik: 25.5tckl
Dillon May: 23tckl, 2sck
Ben Williams: 21.5tckl
TEAM: 692tckl, 32sck, 23int, 19FR
Kicking
Phillip Stone: 14/24, 30/32 XPs, 72pts
TEAM STATISTICS
Offensive PPG: 23.71
Allowed PPG: 12.43
Offensive Pass YPG: 181.9
Offensive Rush YPG: 95.6
Defensive/ST Touchdowns: 5
In 2015, Panther Creek will return their two leading rushers (Bass, Pinkney), as well as their top three receivers in terms of receptions, yards, and scores (Taylor, Smalls, Cross). Quarterback Dom Samson will have the opportunity to take the reigns as a full-time starter on varsity next year as well. Isaiah Laster will anchor the defense.