Thirteen fall athletes merit all-SWAC recognition
This year's football, men's soccer, and volleyball teams continued a tradition of excellence, combining with the fall of 2013 teams to send 27 athletes all-conference.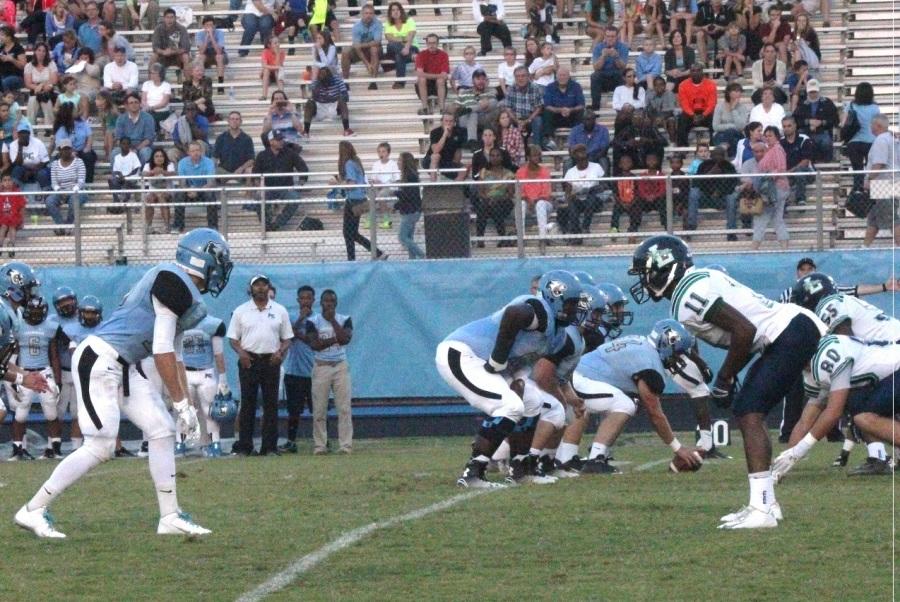 CARY, NC – The trio of fall athletic teams at Panther Creek had 13 athletes receive all-conference recognition, including three players who donned the honor for the second time. In choosing the athletes to go all-conference, the eight coaches from the SWAC all meet and nominate players and then continue on to vote from that player pool. David Grant, head coach of both the men's and women's soccer teams, cited not only statistics, but years played, leadership, consistency, and work ethic as some of the things coach take into consideration when making nominations.
Varsity Football: 11-3, 4AA Eastern Semifinals
Varsity football sent nine of their members all-conference, including SWAC Defensive Player-of-the-Year, senior middle linebacker Ryan Callahan (100 tackles, 5 sacks, 4 interceptions, 24 rush yards, blocked punt, receiving touchdown). Senior cornerback Juwan Byrd (43 tackles, 3 interceptions) was on the first-team for the second consecutive year. Defensive End Josh Guest (39 tackles, 7 sacks) was on the second-team for the second time as well, this time turning in his red and black Middle Creek uniform in for Columbia blue. Guest credits both his teammates and coaches for his continued success, "It's a combination of both, mainly the coaches, the way they prepare us for the games, conditioning-wise, scheme-wise, and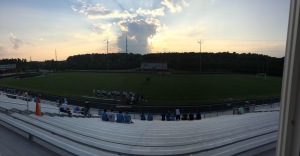 there's just widespread all-around football knowledge." Three of the nine players to go all-conference came from the self-titled "Blue Swarm" defense, who kept opposing offenses out of the endzone in five different games. Defensive lineman Julian Wheaton (1st team, 56.5 tackles, 6 sacks), defensive back Isaiah Laster (1st team, 64.5 tackles, 1 sack, 7 interceptions, 4 total touchdowns), and linebacker Matt Mitchum (2nd team, 50.5 tackles, 2 sacks, 2 interceptions) were the others. The offense saw three players go second team all-conference. Junior receivers Diamante Taylor (38 receptions, 584-yards, 9 all-purpose touchdowns) and Caleb Cross (38 receptions, 538-yards, 4 touchdowns) were big-play threats all year, and senior offensive lineman Donovan Hunt anchored an otherwise young front five.
Men's Soccer: 9-10-0, First Round of 4A Playoffs
Coach David Grant's squad yet again sent three players all-conference. Senior attacking midfielder Sam Conrad (5g, 1a) earned the honor for the second consecutive year. Center midfielder Pridvhi Gadiraju (2g) was the sole member of the team to be placed on the first team. Speedy junior back Daniel Kaspar anchored the defense that led the conference in least goals conceded throughout the majority of the regular season.
Above: The co-founder of CatamountsLIVE and head of soccer broadcasting, Jamie Patel, shares his thoughts on why Gadiraju was deserving of his first-team selection.
Volleyball: 7-10, (5-9)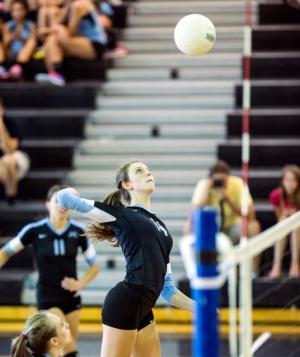 Despite still searching for their first winning record in school history, junior middle blocker Caitlyn Della was a bright spot for the squad, earning a spot on the SWAC second team.  As a junior, Della still has another year with the team, her biggest goal for next year is to lead the Catamounts to the playoffs, "PC volleyball has only made it once, so I really want to make it my senior year and have a successful year as a team."