Where will you be in 10 years?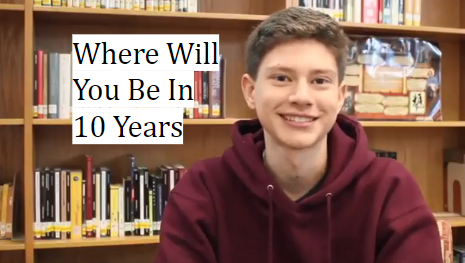 Advertisement
Hang on for a minute...we're trying to find some more stories you might like.
If the year was 2028 and you had to guess what you would be doing, what would it be? We asked Panther Creek students their guesses as to where they will end up ten short years from now. PCNN talked to Colin Walker, Kevin Sebastian, Jonathan Street, and Shahanaz Shafiullahkhan. We asked Colin where he sees himself in ten years, he said, "I'm hoping I'll be living in a big house with my friends." Shafiulahkhan believes that she will use her knowledge from her elective classes at Panther Creek in the real world like Business Law. Students since elementary school have learned everything from math to science to prepare them for the real world. Kevin Sebastian talked about how he will miss the people he has gotten close with over his time here at Panther Creek High School.
Nobody can truly guess where they will be in ten years but having an idea of where you want to end up is good. Setting goals for yourself can help you end up in the right position in the near future. Panther Creek students typically are very successful after graduating and hopefully Shafuiullahkhan, Walker, Sebastian, Street, and the rest of the '18, '19, '20, '21 classes will be successful in ten years and for the rest of their lives to come.