Future Announces Tour, Will It Affect Prom Attendance?
Hang on for a minute...we're trying to find some more stories you might like.
On February 14th Future announced his "Nobody Safe" tour coming to Raleigh's Walnut Creek Amphitheater on May 13th, the same night as Panther Creek Prom. This creates a tough choice for many Panther Creek students.
Along with Future's announcement of his new album titled Future, the Atlanta rapper also announced his thirty four city headlining tour kicking off May 4th. The Nobody Safe tour makes two stops in North Carolina, May 13th in Raleigh, and May 14th in Charlotte. Future will bring along Migos, Kodak Black and Tory Lanez as opening acts.
"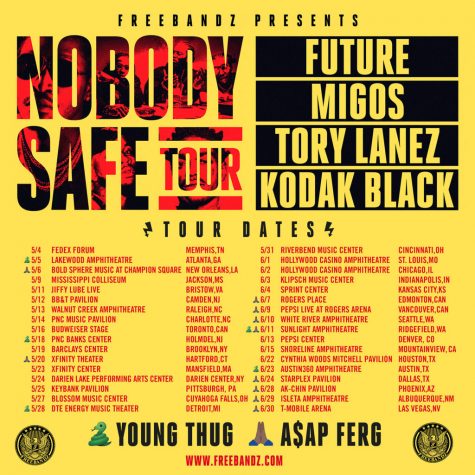 For seniors at Panther Creek, this is their last chance to attend PC Prom as a student, but quite a few seniors have decided to ditch the tradition and attend the concert. When PCNN asked Panther Creek Senior Shelby Sauritch why she decided to ditch prom this year and instead go to the concert, she told us she was "disappointed with Prom last year" and "the tickets were overpriced and the event was poorly planned out."
Student body president Liz Howard is confident that Prom ticket sales will still be a success. "This year, with the Future concert being on the same night some are worried that it could significantly affect our ticket sales; however, I for one am not." Howard elaborates on how the concert may give more people the chance to attend prom. "Every year, there is a good sized group of students who are unable to attend prom due to not getting tickets before they sell out."
Howard also suggests an alternative plan so that students can attend Prom and the Nobody Safe tour. "I would suggest going to Prom on Saturday, then the concert the following day in Charlotte; making for a full, eventful weekend!"
Most Panther Creek students are still making a decision on where to spend their Saturday night, will they stick to the tradition or break the norm and attend the concert?